"Be Quiet" mais modérement : le rôle de l'Etat dans la pensée économique de Jeremy Bentham
This paper aims at showing that the tradition which uses to connect Bentham's utilitarianism with economic liberalism neglects the peculiarity of an approach for which economics is by no way autonomous to legislation. In this respect, we must underline the importance of information problems. Although they justify the non-intervention of the State, as long as we only consider the economic ends - " subsistence " and " abondance " -, they also lead to interventionist conclusions, each time a lack of information brings an uncertainty, threatening the end of " safety " and, more generally, the specific ends of the " legislation ".
Cet article a pour objet de montrer que la tradition associant l'utilitarisme de Bentham au libéralisme économique conduit à négliger la singularité d'une approche dans laquelle la sphère économique ne peut être pensée comme autonome par rapport à la législation. L'accent est placé sur les problèmes d'information qui, s'ils justifient la non-ingérence de la puissance publique au regard des objectifs propres à l'économie - la " subsistance " et l'"abondance " -, conduisent également à des conclusions interventionnistes, chaque fois qu'une insuffisance d'information introduit une incertitude, mettant en danger le " bien de sûreté " et, plus généralement, les objectifs spécifiques de la "législation ".
Fichier principal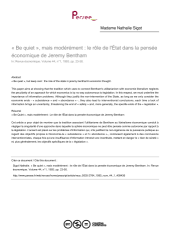 article_reco_0035-2764_1993_num_44_1_409436_1_.pdf (2.6 Mo)
Télécharger le fichier
Origin : Files produced by the author(s)